Adobe breach highlights importance of unique passwords
Wednesday, November 6, 2013
Sean O'Malley, illustration courtesy of xkcd.com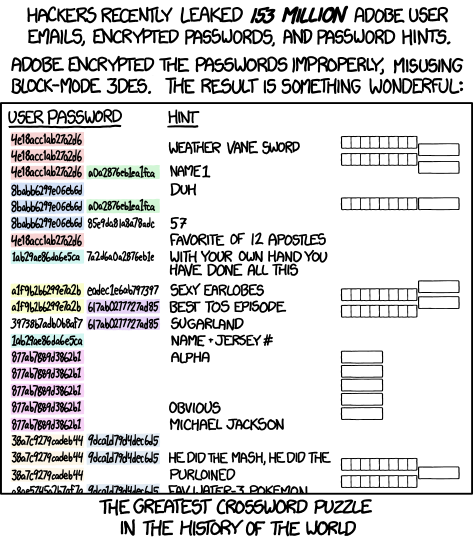 Earlier this fall, Adobe suffered a security breach on its corporate network that exposed many customer usernames, passwords and password hints, including some belonging to OHIO customers.  
According to a Nov 6 email from the OIT Service Desk, the Adobe breach did not affect the university directly but does have the potential to affect individuals who did not properly protect their OHIO passwords. The email instructs anyone who used their OHIO password at Adobe to change it as soon as possible.

"Your OHIO password should be for OHIO use only," said Matthew Dalton, director of information security for OIT. "You should never use it to create accounts outside of the university. This Adobe incident is a perfect illustration of why."
According to Dalton, it is common practice in the hacking community to take a list of hacked accounts and try those usernames and passwords at popular Internet sites. If a username includes an email address, hackers also will try logging into that email account. 
"Your best protection is to avoid duplicate passwords," said Dalton. 
Individuals with questions about password security can contact the OIT Service Desk at 740-593-1222.

Related Links
Adobe customer security alert
Adobe to announce source code, customer data breach
How to change your password